SOME EXPERT TIPS ON HOW TO USE INDIAN EARTH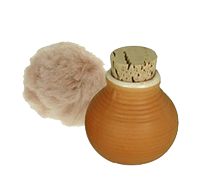 OVERALL BASE AND BRONZER

Brush you puff applicator or brush across the cork to pick up a tiny amount of Indian Earth powder. Very lightly dust powder over your entire face and watch your features come alive. Wait about fifteen seconds for the color to change and intensify with your own skin chemistry.
CONTOUR AND SHADING
Deepen and dramatize the hollows of your cheeks, shadow your chin line or a too prominent forehead, or warm the base of your throat. Keep in mind that dark areas appear to recede, while pale areas seem more prominent.
BLUSH AND HIGHLIGHT

Dust a little extra Indian Earth on cheeks, forehead, chin, and neck and watch your face come alive. Try dusting a little on your earlobes too.
EYE LINER AND EYE SHADOW

Mix a little Indian Earth with water and outline your eyes with a brush. Next, touch a sponge tip brush, a shadow brush, or your finger to the powder on the cork and smooth lightly over your eyelids.
LIP LINER AND COLOR

First outline your mouth with a fine brush dipped in a mixture of water and powder. Allow it to "set" for a few seconds for the full color to appear. If you want pale lips, apply powder to your lips with your fingertip or a brush. If you want a more intense look, moisten your lips and apply more powder.
BODY AND NAILS

You can create the bronze glow of summer sunshine on arms and legs by dusting with your puff applicator. Try highlighting shoulders, upper arms, cleavage, and collar bone. Indian Earth can also be applied on nails and sealed with a clear top coat to achieve a lustrous effect.